VDL PROFESSIONAL ANALOGICS PREAMPLIFICATORE D.I. PreDI
€
99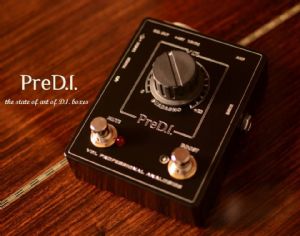 VDL Analogics Pre D.I. Pedal
The VDL Pre D.I. Pedal, as the name suggests, is not just a simple direct box, but instead is a hi-end pure class A pre-amplifier featuring ultra low noise.Features
– 2 different and isolated outputs: 1 balanced XLR with a hi-end audio transformer, and 1 jack unbalanced (named AMP)
– The input is of a very high impedance (>5M) to accept any kind of instrument pickup.
– Send/return jack (using an insert cable)
– Tuner out.
Controls 
The 2 pedal switches are:
– On the left there is the MUTE (it uses an optical noiseless muting system). The tuner out is always active also when there is the mute on.
– The switch on the right, named "Boost", turns on the extra gain (max +25db) that you set with the big knob on the center of the pedal.
Close to the XLR ouput ther is a little switch to decide to supply it with the phantom power coming from the XLR, or with an external 12V DC (please only use a good quality, well regulated power supply).
Prodotti simili
Nessuna prodotto trovato.